Thanks for the help!
There has been a lot of response! Thank you all for that. The results aren't earth-shattering, but I want to share them with you guys anyway.
The words I use already are also the words you like. And someone actually voted for fanny! Go figure… I created a small graph, so it's easy to see what word the winner is in which category.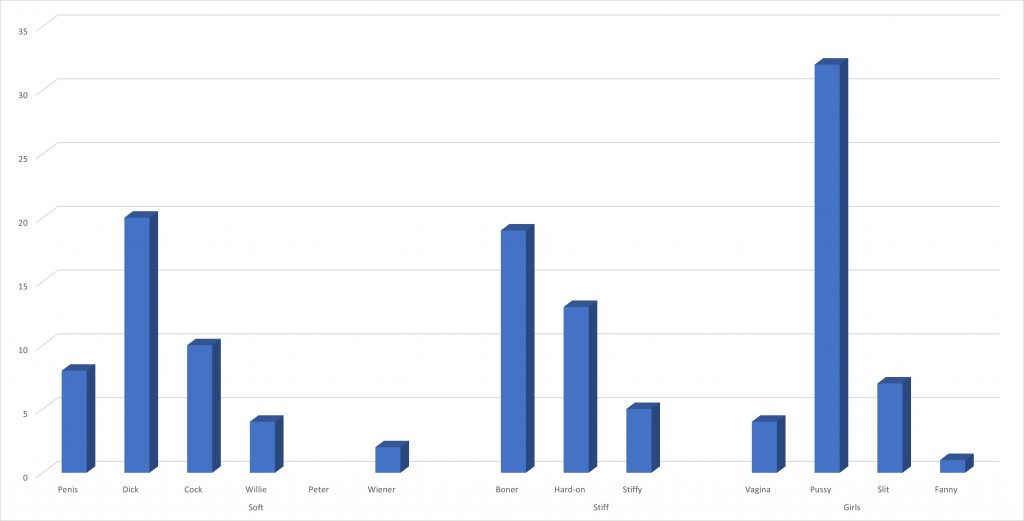 And then the words you could fill in and let your imagination run free. Oh boy. I ordered them again:
Soft:
Noodle
Member
Tube
Cocklet
Softy
Package
Cockley
Ding-a-ling
Ding-a-Ling is funny, but I can't see myself using it. Cockley is a bit out there for me too, but the other one's are definitely words I can use.
Stiff:
Hard cock
Shaft
Pole
Cocklet
Purple helmeted love warrior
Prong
Prick
Woody
Erection
Nail
Spike
Root
Knob
Thumper
Such creativity!! What can I say? I like them all, but I think only one or two will make the cut.
Girls:
VaJayJay
Cunt
Cream pie
Mons
Kitty
Stinky
Beaver
Vage
Honey hole
VaJayJay is the little girl's name for it, but I like it, and I might need it! Beaver and Kitty are also contenders for a next story. I like stinky too, especially because one of the comments was 'stay away from girls!'. LoL!!
Anywho… I can't close the poll without completely deleting it. So if you still want to participate, be my guest. But these results will not be added to the above graph or text. Thanks a lot to everyone for participating! I never expected this many answers, but I guess the subject is just too funny to let go.
Stay tuned for more.
Purple helmeted love warrior… Wow… 😀